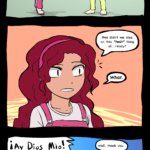 Anyone wanna do some guest comics?
on
July 1, 2017
at
11:09 pm
I'll be away from July 10 – 15 (in Japan!), so if anyone wants to submit guest comics/art for fun or to promote their own comic, then be my… guest! I'll be posting your comics once a day during the week while I'm gone. If a lot of people submit, I'll just update it multiple times a day. Some rules though:
Something related to Cat Nine (duh)
No NSFW. The most you can go is Barbie-level nudity like in page 20.
Can be vertical or horizontal format, but all comics should have 1536 pixel width max.
Please submit your comic by July 7 through email, Facebook, Twitter, or Discord. Include a link to your website if you want to.
Thanks everyone!