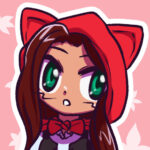 on
October 1, 2021
at
9:49 am
Haven't been in the mood to make Halloween wallpapers with multiple characters in forever, but I've always wanted to keep drawing something Halloween-related. So, let's settle with just one character! All patrons can vote for it here, while everyone else can participate with the community poll below (which has no effect on the actual artwork 😛).
Feel free to leave a comment below for costume ideas or if you want other (Cat Nine) characters. Poll closed on Oct. 16.
Thanks Hothead

for the inspiration for this.
Result: Myan won, but of course.