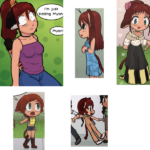 Which Myan should I (re)draw?
on
June 21, 2017
at
12:14 am
Itching to (re)draw Myan in one of her older outfits and hairstyle. I'll leave it up to you guys to choose!
You can vote up to four different options. I'll close this poll next week!
Poll closed and removed!