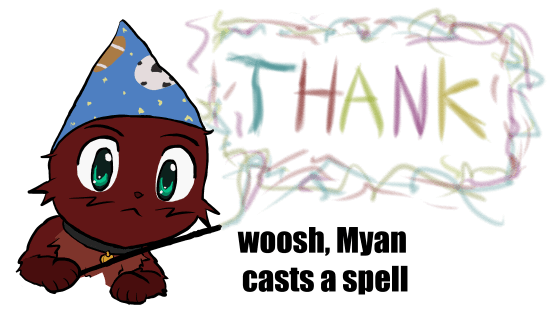 woosh Myan
on
November 18, 2017
---
woosh
Finally back, and thanks for being my patron even during the hiatus and then reaching the $100 Goal! Gonna start blogging soon as well, and I think I'll do these thank you drawings from now on, plus a monthly drawing of Myan "cosplaying" as other characters (likely other catgirls like Felicia). The following things were only possible with the pledges you've given me!
Learned Illustrator, though I gave up on it in the end since it's just not fit for comics. Hopefully has some use if I need it!
Bought and learned Clip Studio, which is so much better for comics and art as you've seen with the things I've been making. Highly recommend this thing!
Dabbled a bit with animation. I might've missed using Flash when I switched to Clip Studio, though I do not miss the crashes. May even finish this if I have the time.