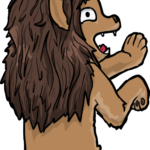 on
June 14, 2017
at
11:23 pm
Anyone can vote to name this lion! Yeahhhhh, I was expecting that some of you'll name him Leo and other variations, but hey, it is a simple and awwsome name, so vote on whatever you want.
I'll close this next week.
Result: His name is Rory now!
Poll closed and removed!