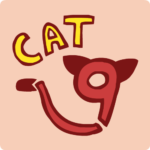 Apology post [100% serious]
on
November 9, 2023
at
5:13 am
sigh
I didn't want to write this, but here it goes…
Dear Cat Nine Community,
I want to apologize that I'm not the lewd artist you want me to be, because I am totally not (that) lewd. I fell below the standards I set for myself and, most importantly, the standards you deserve. I promise to do better and provide the quality and artistry you've come to expect. Your support and feedback mean the world to me, and I'm committed to delivering content (that's not that lewd) that reflects that. Thank you for your understanding, and stay tuned for more artwork that we can all be proud of.
That's why to make up for it I'm announcing this new copium emoji and sticker in Discord to better tease me about being a lewd artist, which I am not.
Sincerely, [insert username here]