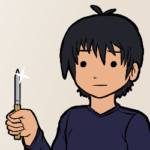 36 pages are so last year
on
April 20, 2017
at
7:07 pm
After finishing Episode 4, I think I'll stop making each Episode have exactly 36 pages, making it a rough guideline instead.
Why'd I decide on 36 pages in the first place? Well, I based it from the average comic book length (22 pages without the ads), but since Cat Nine's more of a comic strip, I felt that 36 pages was a decent amount to tell a complete story and it forces me to cut-out or rewrite some unnecessary parts just to keep it within 36 pages. And if you didn't notice, 36 is a multiple of 9…
So! Expect future Episodes will be longer or shorter, and (gasp) not a multiple of 9 !