Posts Tagged poll
16 results.
Patrons can now vote on the Episode 6 poll where you (well, patrons) can decide what the next Episode is gonna be! Some patrons found the keywords for the poll too vague, so now you can see their synopses here!
Everyone else can vote on the community poll below. Again, it's only for fun though since I'll only consider the results from what the patrons voted.
(you can vote on multiple choices)
Sorry I know this is late, I keep forgetting to post this for some reason. Anyway…
Since everyone else except Cruz (Link's Gerudo outfit, from Breath of the Wild) will be dressing up as Pokemon characters for this year's Halloween, someone suggested if it's better for him to be another Pokemon character as well. Cruz will go as Gary Oak, so it'll fit Keith's Ash.
I'll leave the decision to you guys again through the poll below, then I'll start making the wallpaper after I've made some progress with the next Episode's storyboard.
Halloween 2017 Poll Winners
Aside from Cruz, looks like Pokemon is this year's Halloween theme! Thanks for voting!
Myan: Eevee
Keith: A Pokemon character. I'll go with Ash.
Tammy: Sylveon
Cruz: Link in Gerudo outfit
Hibi: A Pokemon character. I dunno, I think I'll use one of the female protagonists.
Only one week to vote for the Halloween 2017 Poll!
Current likely winners below. Maybe YOU can change the results?
Myan: As Eevee
Keith: A Pokemon character (probably Ash)
Tammy: Sylveon
Cruz: Link's Gerudo outfit (Zelda Breath of the Wild)
Hibi-hibi: Rose Quartz or A Pokemon character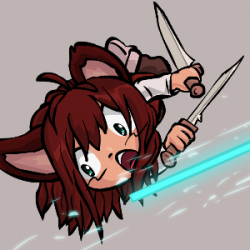 Now you can vote below for 2017's Halloween Header! This time, each character has a poll of their own. You can switch back and forth between them, and can vote for multiple choices for each one. I'll close this when August ends.
Since my current hard drive is almost 4 years old now, I've finally decided to buy an external HDD (Toshiba Canvio Alumy 2TB) so I don't have to worry about my HDD (and Cat Nine!) from dying anymore. I actually have a 1TB external HDD and my internal HDD is 1TB as well, but it's apparently not enough to store system images + backups, not without freeing up some space that is.
So anyway, I'll let you guys pick a color! I'll close this poll on August 1 since I wanna buy this as soon as possible. Patrons can vote here.
Oh, and since this is a good opportunity for it, I'll let you guys "vote" in some patron polls as well from now on. I'll put up a Community poll below like usual. After the poll closes, I'll "vote" for the chosen result on your behalf in the patron poll, with the amount of votes depending on the current number of patrons. Simply put, if "Red" is the winner in the poll below, I'll consider it let's say, 2 votes for "Red" in the patron poll.
Result: Guess I'm getting the black one then!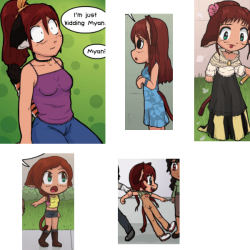 Itching to (re)draw Myan in one of her older outfits and hairstyle. I'll leave it up to you guys to choose!
You can vote up to four different options. I'll close this poll next week!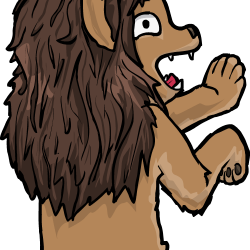 Anyone can vote to name this lion! Yeahhhhh, I was expecting that some of you'll name him Leo and other variations, but hey, it is a simple and awwsome name, so vote on whatever you want.
I'll close this next week.
Patrons can now vote for Myan's hairstyle for the next Episode. Everyone else, have fun with the community poll below!