Archive for My Art
92 results.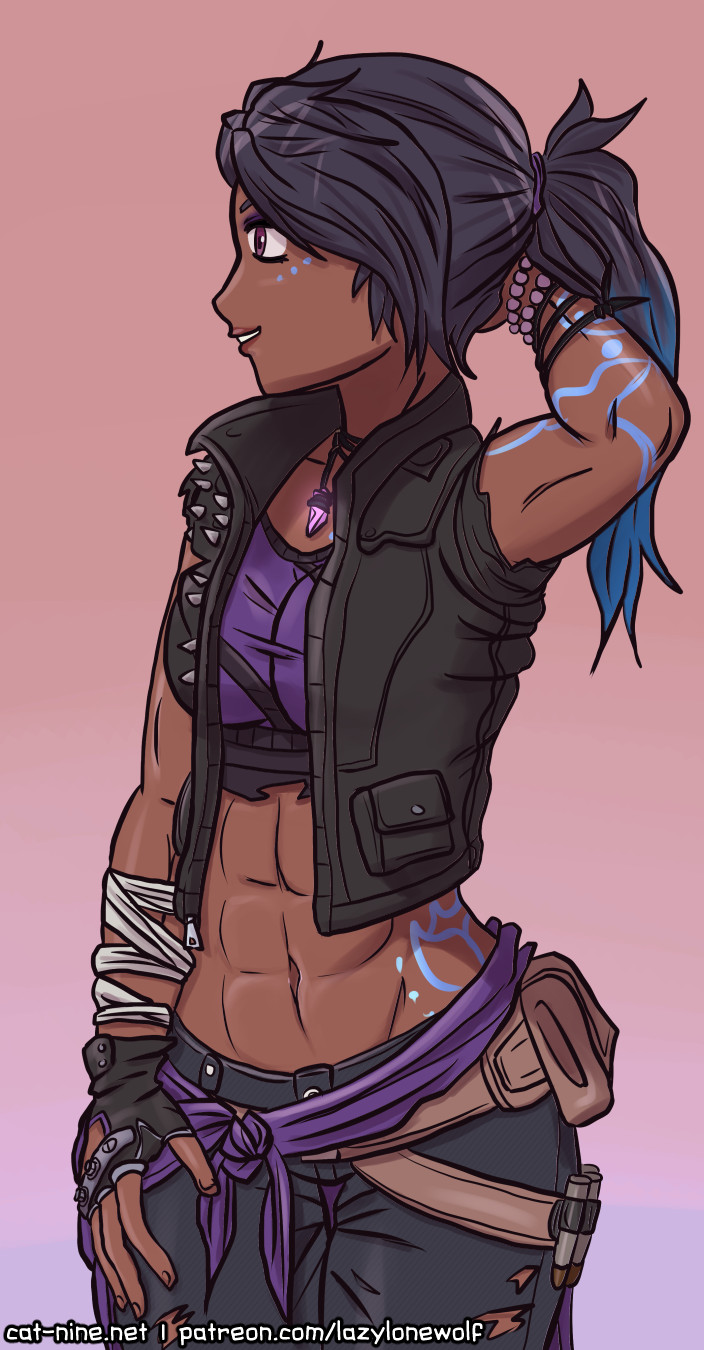 Amara
HD + WIP ($3+ patrons)
Early accessed by $3 patrons on 7/30/2019
---
Amara from Borderlands 3 as suggested by Fishmeistercod.
True Form Tawli
HD ($3+ patrons)
Early accessed by $3 patrons on 7/19/2019
---
You know, if they have a true form like Hibi-Hibi.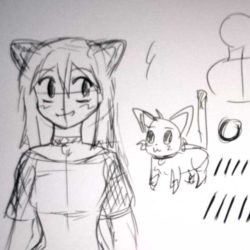 [There are Amazon affiliate links here. Clicking on them and then buying stuff from Amazon can earn me some money!]
Those who follow me on Twitter or hangout in Discord will know I've been thinking about getting a Cintiq 16 as soon as I heard it existed. Well, I already bought it a few days ago and using it lots!
I was hoping that the Cintiq 16 is gonna be a game changer like when I got ClipStudio, so I wanted to test it out even if I have to travel a couple of hours to the city. The drawing on the left doesn't look much, but my short time with it was enough to convince me. The discount the shop unexpectedly offered certainly didn't hurt though! I guess it's that Lazylonewolf charm eh? For my Philippine peeps, I tested and bought it at Ynzal.
And it really is a game changer! I've already been using it for some of the bonus art, and oh boy, drawing is a breeze and fun again. The disconnect between the monitor and the drawing tablet has always bothered me, and the Cintiq made apparent why I was not that motivated to draw. I'm also relieved since I was a bit worried that my drawing skills wouldn't transfer well from when I was using the Intuos (my now older tablet). If nothing else, I'm motivated to work harder to earn back what I just spent so… commission me or become a patron please! And of course, thank you my current patrons, donors, and anyone who's browsing with adblock off!
If you're an artist, I'd definitely suggest getting one if you can. It's so much more reasonably priced compared to the Cintiq Pro 16, not to mention they've fixed some of the problems with it. I can actually afford the Pro 16, though it's still way too expensive which is why I changed my mind. Now I'm glad that I didn't go ahead with that.
Cute Haliya
HD + WIP ($3+ patrons)
Early accessed by $3 patrons on 7/11/2019
---
Haliya making up for all those centuries since her mask doesn't go well with a lot of outfits.
As far as I know warrior tattoos don't usually go on the face, so I'm not too sure about her anime-ish face tattoos… but I can't say I don't like it either!
Office Cutie
Early accessed by $3 patrons on 7/17/2019
---
A sketch I did for Topwebcomics when they were looking for someone to commission comics from. Too bad I didn't get it, but oh well!
Yukata Myan
---
The patrons originally suggested kimonos, but yukatas are kimonos. I hope you guys like the shorter version since I found them cute, and the art turned out pretty nice I'd say! I also consider this a very late commemoration of my trip to Japan two years ago. At least I'm much better since then!
Japanese text is "Myan". I sure hope Google Translate was correct!
Papi
---
A 500% bustier Papi from Monster Musume/Everyday Life with Monster Girls! Most of the colors picked from one of the colored pages.
So this… took forever to draw guahhhhhh; if I had a top 10 list of things that are hard to draw, it would be wings, even though it's my fault I was trying to draw this without reference haha.
by Lazylonewolf
on
June 9, 2019
└ Tags:
art
,
color
,
colored
,
drawing
,
Everyday Life with Monster Girls
,
fan art
,
fanart
,
harpy
,
monmusu
,
monster
,
monster girl
,
monster musume
,
papi

Bunny Girls
HD + WIP ($3+ patrons)
Early accessed by $3 patrons on 5/22/2019
---
I need some honey for my bunnies~
Also an exercise at mimicking "The Quintessential Quintuplets" colors (well ok, I eyedropped them) from the covers. Haven't had much practice coloring "white" people yet… or at least using a color palette with really pale colors, so might as well practice. Even eyedropped, I still have trouble perceiving them, or perhaps it just looks weird to me since I'm used to their default Cat Nine colors. And I tried putting some "blushes" on her shoulders and knees like in certain art styles. I don't really like those whenever I see them, but yeah they do make white-ish characters more interesting to look at.

Blue Neko – Commission for RobbieRotten
Commissioned by RobbieRotten for their friend's birthday, how sweet (and thank you too for commissioning me)! Somehow, I'm thinking Nicole because of the blue hair + cat.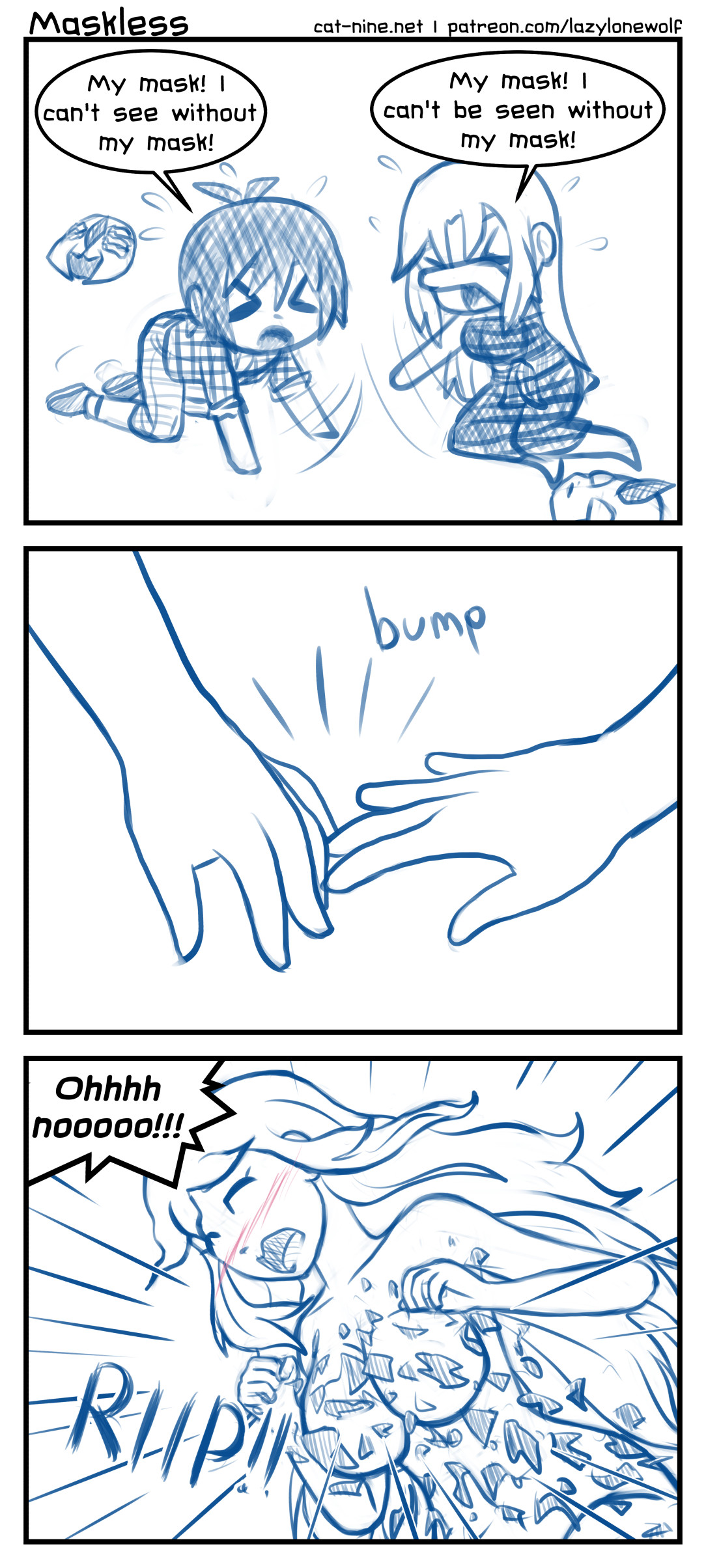 Maskless
HD & Textless ($3+ patrons)
Early accessed by $3 patrons on 4/4/2019
---
Blondie's clothes doesn't feel too good. Only 90's kids would get this.