So, yeah, just gonna learn Illustrator and get some practice with it. I've already been learning it during some of my free time, and oh boyyyy. I hope you'll be patient with me for now! I'll keep you guys busy with some of the bonus comics that should've been made/posted while Ep4 was going on, but honestly I just didn't have the time to make them. Perhaps I should make these bonus comics after an Episode ends from now on…
If anyone needs me, I'll be hanging out in Cat Nine's Discord. Just use the big ol' purple button to the left!
↓ Transcript
For Episode 5, patrons have voted for: Moon

Everyone! Thanks for reading Episode 4! It only took, what, two years? Not a bad time frame eh? Hahaha...hah.

Anyway, just wanna announce a short hiatus. Now now, I know what you're thinking... I'm seriously trying to learn Illustrator so I can draw more complicated stuff, and I feel Flash is too limited for me now. And I still want to work out the story, colors (cause it's night), and character designs.

Don't worry though, I'll be making some bonus comics and art for everyone and patrons! And hey, they're practice for Illustrator too!

So, see you all when I come back!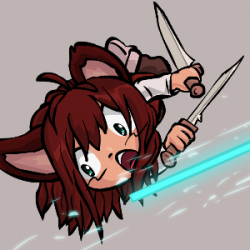 Now you can vote below for 2017's Halloween Header! This time, each character has a poll of their own. You can switch back and forth between them, and can vote for multiple choices for each one. I'll close this when August ends.
Suggestions for Halloween 2017 closing on August 15!
I'll stop accepting any suggestions for the Halloween 2017 header this August 15! Afterwards, I'll put up a poll allowing you to vote for their costumes! You'll be able to vote until August 31.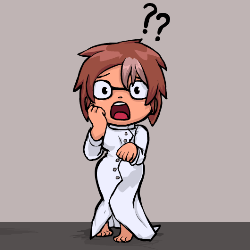 Like previously, I am now accepting suggestions for this year's Halloween Header until the end of August. As usual, this header will randomly show up on the top of the website and I'll make a wallpaper for it (and turn that into a header too!). I promise not to disappear again like last time though! Just leave your suggestions in the comment section below, Discord, Facebook, or Twitter! (preferably in the comments below)
Suggestions
Lazylonewolf – Everyone as Steven Universe characters. Hibi as Rose Quartz.
BlueDavrial – Everyone as sentai/power rangers.
Fishmeistercod – Pro wrestling. Myan Cenaaaaa.
ColdFusion – Myan proper lady
Hakira – Pokemon theme. Tammy is Sylveon.
Hothead – Someone as Crash Bandicoot (?), Cruz as Link wearing Gerudo outfit (from Breath of the Wild), Cowboy Bebop, Myan as Liru
dogfurno999 – Persona 5 theme. Cruz as Ryuji Sakamoto. Myan as Eevee.

ZeroKelvinKeyboard – Nepeta

Sir Wuffles – Keith as McCree
Jugemu – Someone as Seras Victoria
It's finally August now, that means the $1-off from every Reward is now removed, and no else can become a Pioneer from now on! Now you can legit say "I was a Cat Nine patron before it was cool" to everyone you know!
Thanks to all the patrons who helped Cat Nine's Patreon launch a huge success (it is, to me)! Particularly the ones who pledged on the first week, and kept it up until the promo period ended. You guys are now also known as True Pioneers in the Patrons page! Seriously, thank you so much!
Since my current hard drive is almost 4 years old now, I've finally decided to buy an external HDD (Toshiba Canvio Alumy 2TB) so I don't have to worry about my HDD (and Cat Nine!) from dying anymore. I actually have a 1TB external HDD and my internal HDD is 1TB as well, but it's apparently not enough to store system images + backups, not without freeing up some space that is.
So anyway, I'll let you guys pick a color! I'll close this poll on August 1 since I wanna buy this as soon as possible. Patrons can vote here.
Oh, and since this is a good opportunity for it, I'll let you guys "vote" in some patron polls as well from now on. I'll put up a Community poll below like usual. After the poll closes, I'll "vote" for the chosen result on your behalf in the patron poll, with the amount of votes depending on the current number of patrons. Simply put, if "Red" is the winner in the poll below, I'll consider it let's say, 2 votes for "Red" in the patron poll.
Result: Guess I'm getting the black one then!