While Cat Nine isn't horror/the place for horrible transformations, Hibi would've attempted to control Tammy's transformation. Diwatas are powerful, but there's only so much she can do with a goddess' curse.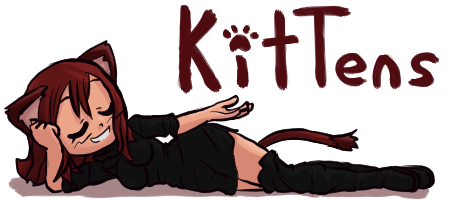 MCWildcat
Hothead
TGIF
Steffen
Knut Breitschuh
Sunblaze
Techokami
feralcat52
Cmoparw
Hilda Leyes
↓ Transcript
Hibi-Hibi: Indeed I can but... transforming is dangerous if you aren't a natural shapeshifter or without magical safeguards.
Cruz: my pants need a safeguard

Hibi-Hibi: Imagine a clay figure representing a person, and magic the hands that will shape it. Underneath its touch, the body is fragile, pliable. The mind even more so.

Hibi-Hibi: You can guess what'll happen if you aren't careful! A properly enchanted agimat can protect you from most of these dangers.
"Magic": whoopsie!

Hibi-Hibi: Tammy's lucky that she merely became a werewolf. It's not the worst thing that could've happened to her!
Tammy: So lucky, yayyyy...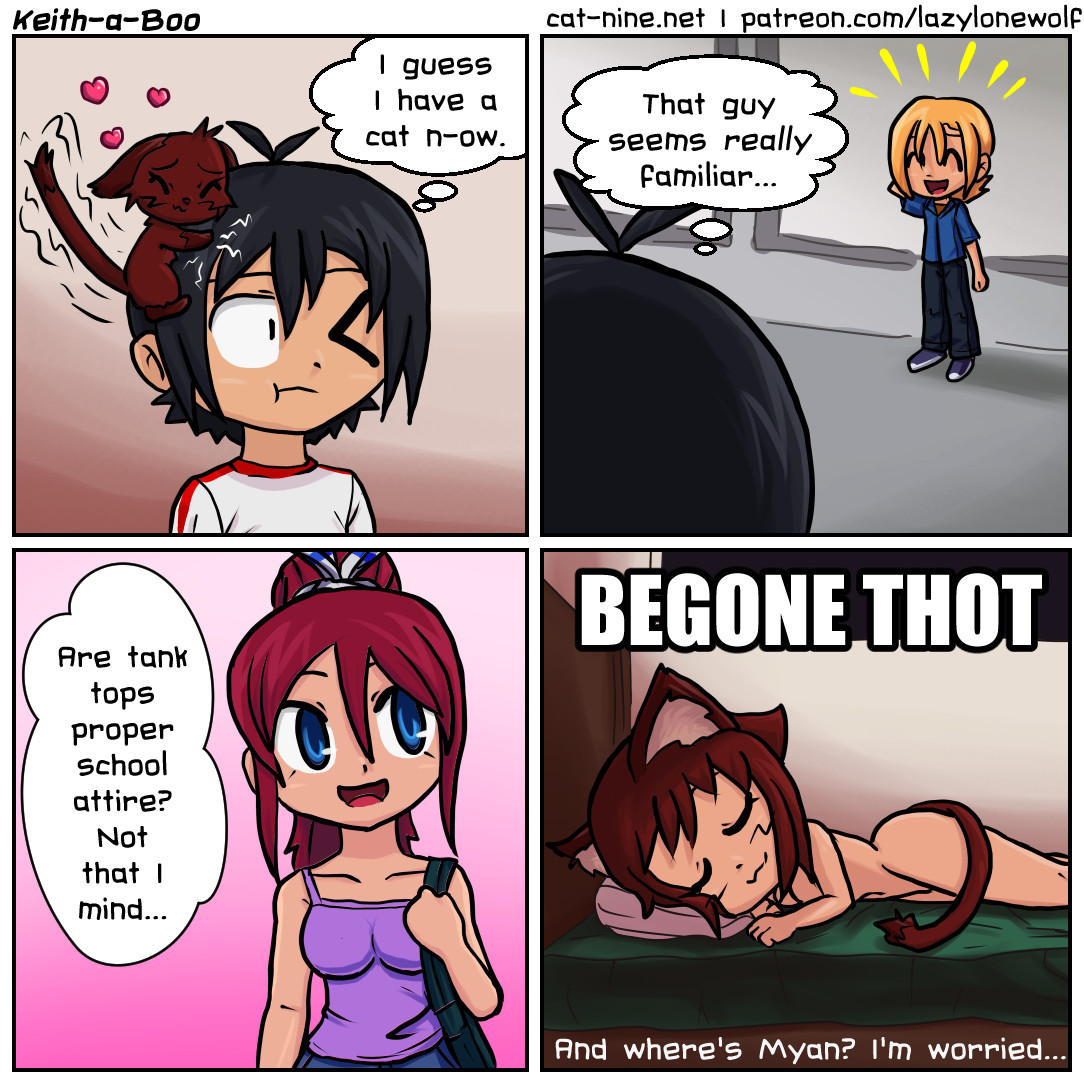 Keith-a-Boo
HD + WIP ($3+ patrons)
Early-accessed by patrons on 8/21/2019
---
My interpretation of Fishmeistercod's suggestion, "A peek into Keith's mind". Also trying out a square format.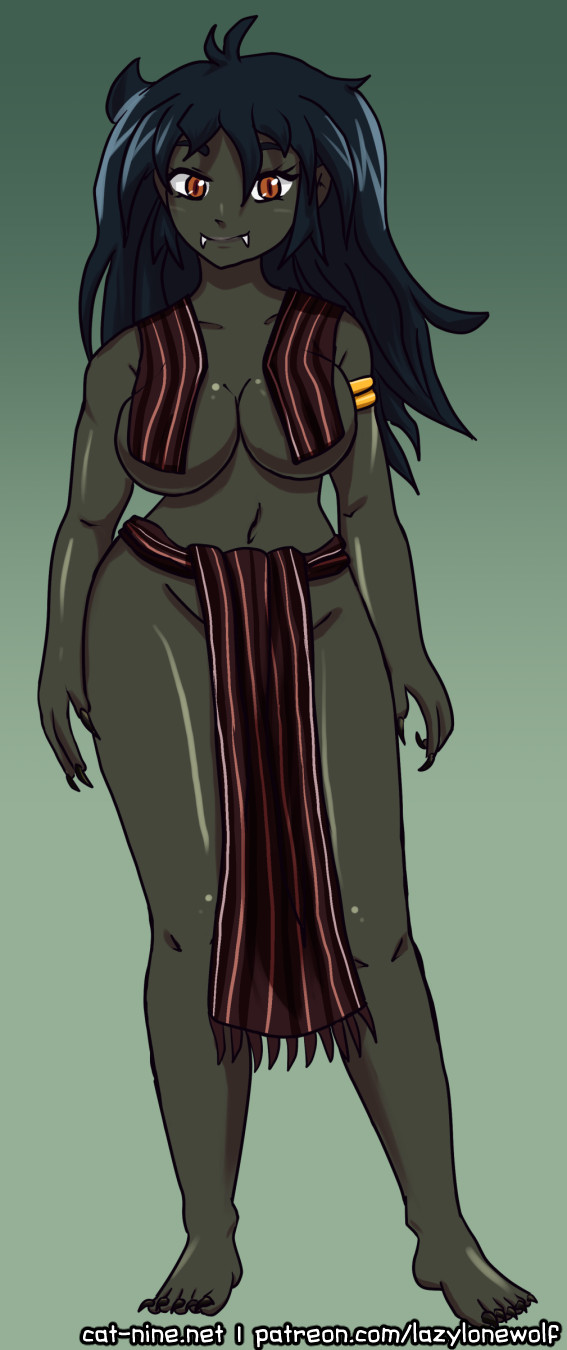 Kapre Concept
HD + WIP ($3+ patrons)
Early accessed by $3+ patrons on 8/18/2019
---
A hypothetical female kapre if one is to appear in Cat Nine. Suggested by BlueDavrial.
Kapre (pronounced kah-preh) are:
Tree-dwelling. Not sure if it's on the branches or inside the tree. Philippine mythological "facts" are confusing and varied.
7 to 9 feet tall. Apparently that's enough to consider them a giant, especially since us Filipinos are on the short side.
Wears loincloth, or "bahag" as we call it. I was supposed to draw her without that vest/top thingy, but wearing just the loincloth is already Haliya's thing so… and well, without (Haliya's) tattoos, it's gonna look more uh, naked.
Smokes cigars. Not depicted here though.
Some mention of treetrunk-ish legs. Of course, I took that as an excuse for drawing her thicc.
Dark skin. If you are so inclined to be a patron, the WIP includes different ideas for the colors before I settled on this one.
Somewhat hairy or furry. Perhaps next time I'll add some tufts of fur or something.
A magic belt that turns them invisible. Well, I went for the arm belt thing for now since I don't know what a loincloth + belt would look like.
You can see their bright orange eyes and/or the cigar in the dark.
I've only heard of them being male, but that's not gonna stop me!
by Lazylonewolf
on
August 29, 2019
└ Tags:
art
,
color
,
colored
,
concept
,
concept art
,
drawing
,
female
,
kapre
,
mythological creature
,
mythology
,
Philippine mythology

Nona (Over Drive Girl 1/6)
HD + WIP ($3+ patrons)
Early accessed by $3+ patrons on 8/10/2019
---
Nona from Over Drive Girl 1/6. I was just randomly watching anime and I stumbled upon it.
I dunno, I just like the art style and the character. Maybe it's because his style is similar to mine, or the Megaman Zero bikini outfit, who knows! Alls I know is she's cute.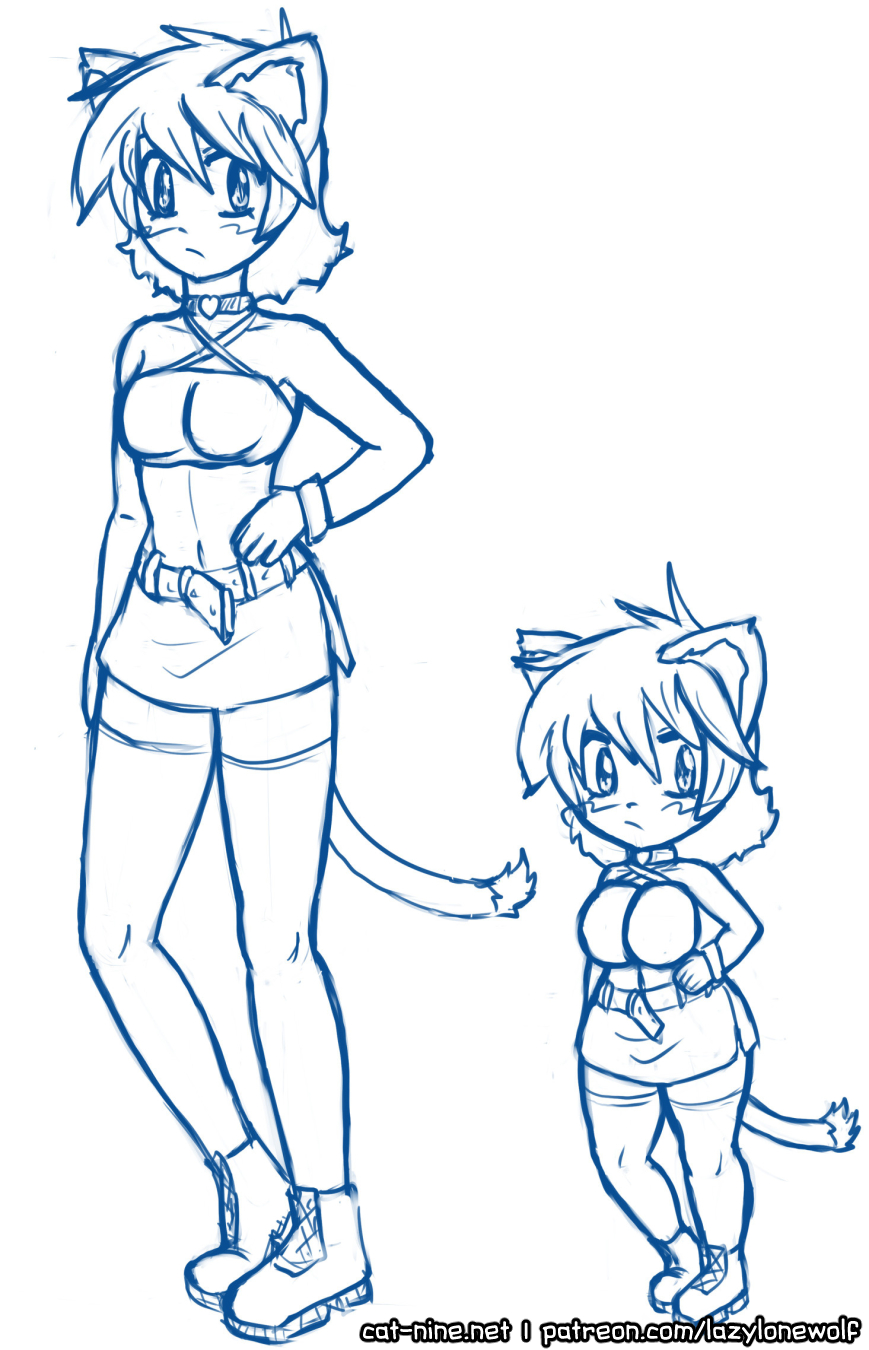 Myan and My
HD ($3+ patrons)
Early accessed by $3 patrons on 8/9/2019
---
Or Shortstack Myan 3, the older one's in an art stream and here. I think I like the one in the art stream the best, but hey, might as well experiment right?
First, some dumb jokes are in order:
Don't talk to me or my shortstack ever again
She's half the Myan that she used to be
Hothead's suggestion was actually "gradually shorter and increasingly-stacked Myans", but I skipped a few steps haha. Up to you if you just consider it a chibi Myan, but hey, she's shorter and stackier so…
This is my first drawing with the Cintiq actually setup on the table since the HDMI cable extension just arrived today (August 9). Dunno if it's that or just another bad art day, but this took longer compared to the other things I've drawn with the Cintiq. I hope it's just a bad art day then, or else I'lI just have to git gud faster. Of course, I can just continue to draw the way I've been drawing, with the Cintiq propped up on my legs, but I think I'll try drawing on the table a while longer.
I've also been thinking that her hairstyle here would've fit a genderbent Keith, though it's not bad for Myan too since the top of her hair here looks like the tuft of fur on top of her head when she's in cat form.

Myan ref sheet
HD ($3+ patrons)
Early accessed by $3 patrons on 8/3/2019
---
Myan ref sheet as suggested by BlueDavrial. This one won the color poll!
I didn't notice I was using mechanical pencil for the side view. Oh well, it looks nice either way!
Also, here's the rear view without the lines erased since I put so much effort on it!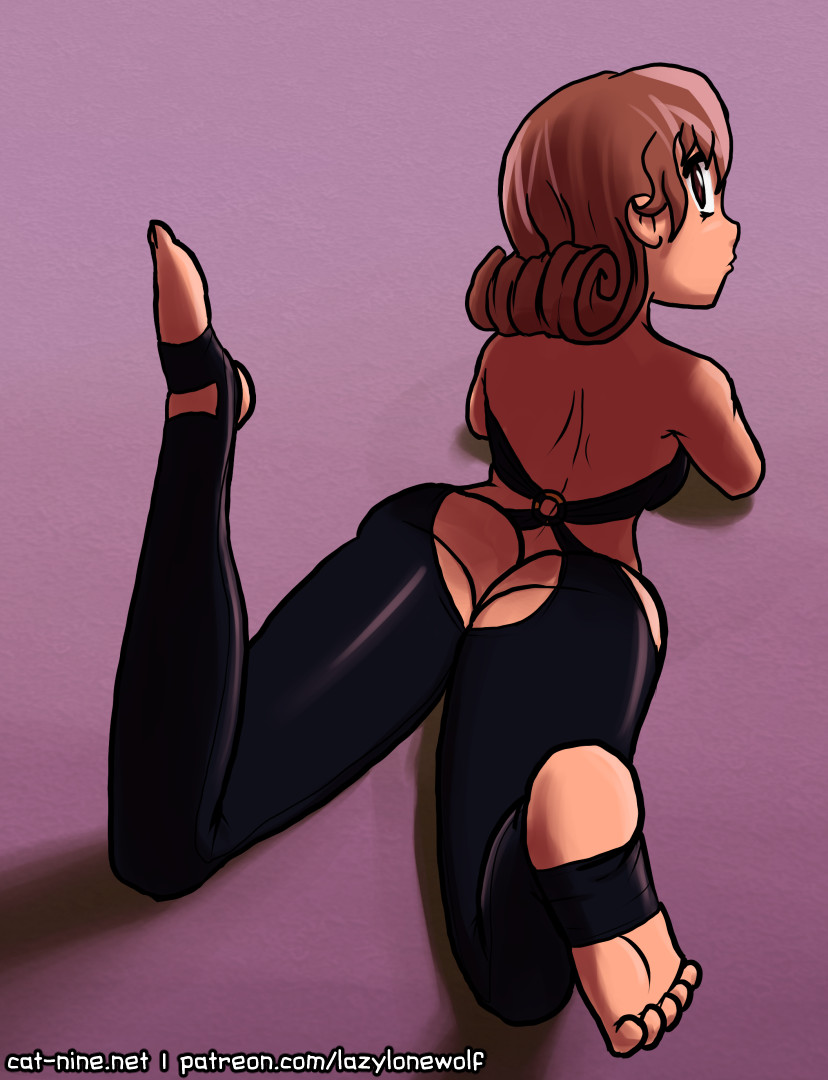 Rallidae Bodysuit Lingerie
HD + WIP ($3+ patrons)
Early accessed by $3 patrons on 8/2/2019
---
Rallidae wearing a sexy piece as suggested by Yugo Ryan

! This is also my first serious drawing with my new Cintiq 16!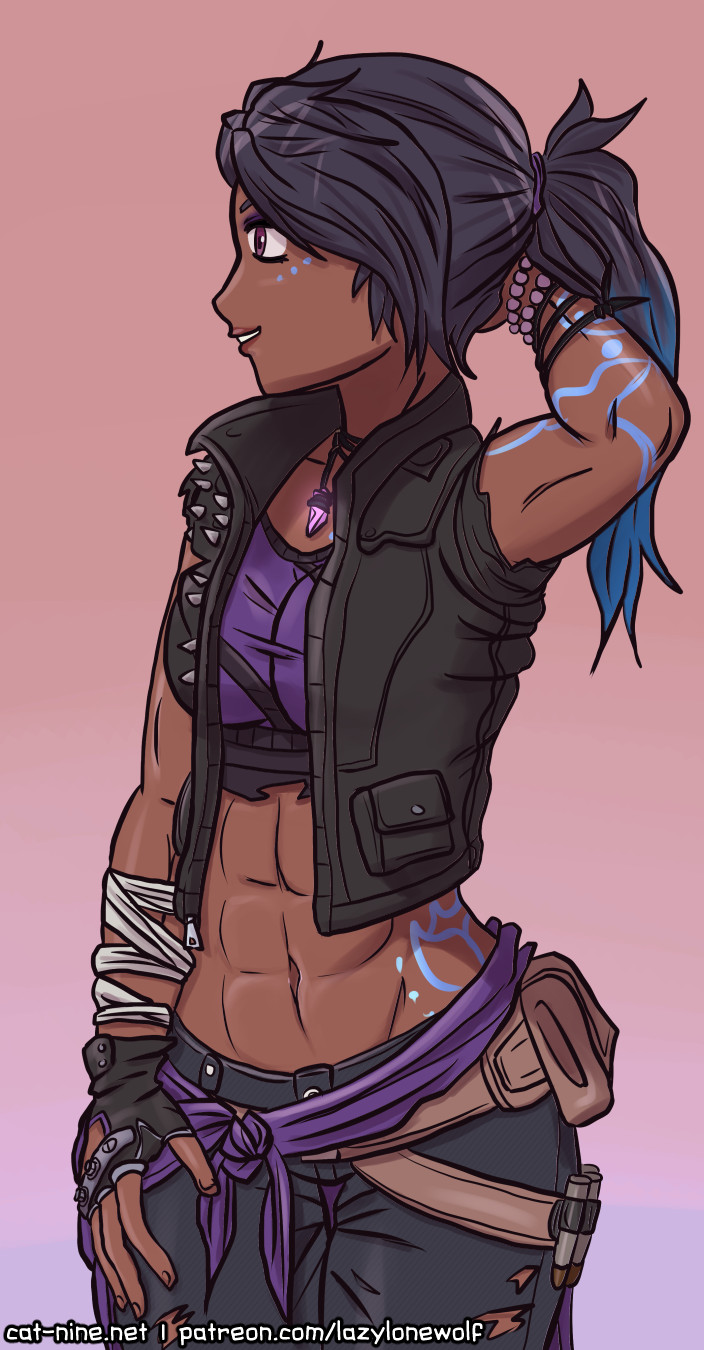 Amara
HD + WIP ($3+ patrons)
Early accessed by $3 patrons on 7/30/2019
---
Amara from Borderlands 3 as suggested by Fishmeistercod.
by Lazylonewolf
on
August 10, 2019
└ Tags:
abs
,
amara
,
art
,
artwork
,
borderlands
,
borderlands 3
,
colored
,
dark skin
,
drawing
,
fan art
,
fanart
,
fit
,
tattoos
,
video game
,
video games
True Form Tawli
HD ($3+ patrons)
Early accessed by $3 patrons on 7/19/2019
---
You know, if they have a true form like Hibi-Hibi.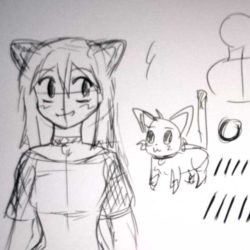 [There are Amazon affiliate links here. Clicking on them and then buying stuff from Amazon can earn me some money!]
Those who follow me on Twitter or hangout in Discord will know I've been thinking about getting a Cintiq 16 as soon as I heard it existed. Well, I already bought it a few days ago and using it lots!
I was hoping that the Cintiq 16 is gonna be a game changer like when I got ClipStudio, so I wanted to test it out even if I have to travel a couple of hours to the city. The drawing on the left doesn't look much, but my short time with it was enough to convince me. The discount the shop unexpectedly offered certainly didn't hurt though! I guess it's that Lazylonewolf charm eh? For my Philippine peeps, I tested and bought it at Ynzal.
And it really is a game changer! I've already been using it for some of the bonus art, and oh boy, drawing is a breeze and fun again. The disconnect between the monitor and the drawing tablet has always bothered me, and the Cintiq made apparent why I was not that motivated to draw. I'm also relieved since I was a bit worried that my drawing skills wouldn't transfer well from when I was using the Intuos (my now older tablet). If nothing else, I'm motivated to work harder to earn back what I just spent so… commission me or become a patron please! And of course, thank you my current patrons, donors, and anyone who's browsing with adblock off!
If you're an artist, I'd definitely suggest getting one if you can. It's so much more reasonably priced compared to the Cintiq Pro 16, not to mention they've fixed some of the problems with it. I can actually afford the Pro 16, though it's still way too expensive which is why I changed my mind. Now I'm glad that I didn't go ahead with that.
Cute Haliya
HD + WIP ($3+ patrons)
Early accessed by $3 patrons on 7/11/2019
---
Haliya making up for all those centuries since her mask doesn't go well with a lot of outfits.
As far as I know warrior tattoos don't usually go on the face, so I'm not too sure about her anime-ish face tattoos… but I can't say I don't like it either!