Roller coaster of emotions, this catgirl.
↓ Transcript
Lion: ROARR
Myan: rrawrr~

Myan: He said my name!
Keith: Really?

Myan: No... that was just a lie that I tell myself.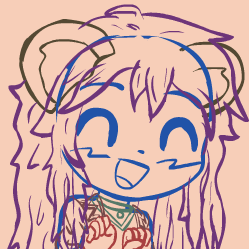 I managed to remember to put aside the unfinished drawings, so here's a quick tutorial about drawing using Adobe Flash. I use the Brush tool with pressure enabled, circular brush shape, and brush size turned up to the max. Enjoy!
↓ Read the rest of this entry…
I figured out a much quicker way to "tapastify" my comics, yeyy. I'd prefer if you guys read here though, especially since Cat Nine at Tapas will be a month (or maybe even a whole Episode) behind cat-nine.net. I'll only update there if I have the time of course.

I've finally managed to fix the Comments button in the navigation bar. Clicking on it will now directly take you to the comments section. And for some reason it was disabled on mobile, but now it's enabled.

This little thing was surprisingly troublesome to fix but I'm glad I did it. Kinda needed to do it anyway, especially if those polls will become a regular thing. I think the polls' height are too tall, but I can't adjust them without having a premium account.
You know what, I'll try posting more voting incentives on Top Web Comics using whatever I have on hand so more people will vote for Cat Nine.
I'll be posting:
Concept sketches that I make for new/background characters (I'll post this after they appear on the comic)
Doodles about new hairstyles and clothes for the guys after every Episode
WIP drawings of comics
Super-quick sketches about poll results (so keep voting on those if you want)
Zoom-ins of characters, especially if they appear far/small in the comic
First page of Patreon-exclusive comics
And of course, new art/comics that I'm planning to start making soon (once a month at most though)
And other stuff at least every week from now on (perhaps from Mon-Thu). Feel free to suggest ideas and remember to vote every day. Enjoy!